BHUBANESWAR: Situated at the border of Chandaka forest on the outskirts of the capital, Padmapada Mundia is a hill sheltering the remnants of mythology. A journey to this lesser known destination can be quite gratifying as it encompasses the true beauty of unscathed nature. The site has several attractions including, a temple complex, rock cut idols, 'Akhand Jyoti' etc. The peak of the hill facilitates a full view of the Chandaka elephant sanctuary.
As one enters the location, the first site to explore is the Mahima temple complex. The site is situated at the thickest part of the forest and was secluded for years. The lotus feet of Lord Hanuman are inscribed on a large flat rock inside the complex. This inscription is popularly known as 'Padmapada'. Legend has it that Lord Rama spent some time of his exile in this place. Small rock cut idols of Ram, Laxman, Sita and Hanuman are carved from a large piece of rock.
Located at the peak of the hill is the white coloured shrine Akhanda Bati Mandir. This is a holy site for the 'Mahima cult', a reformist movement of Odisha within the Sanathan Hindu fold. An open air Ram temple along with a small Hanuman temple can also be found adjacent to the Mahima temple.
Baba Akhanda nath, a priest of the Mahima cult said, "Some Mahima sadhus stay at a tungi near the temple, where one can find the eternal flame which is glowing for the last century'.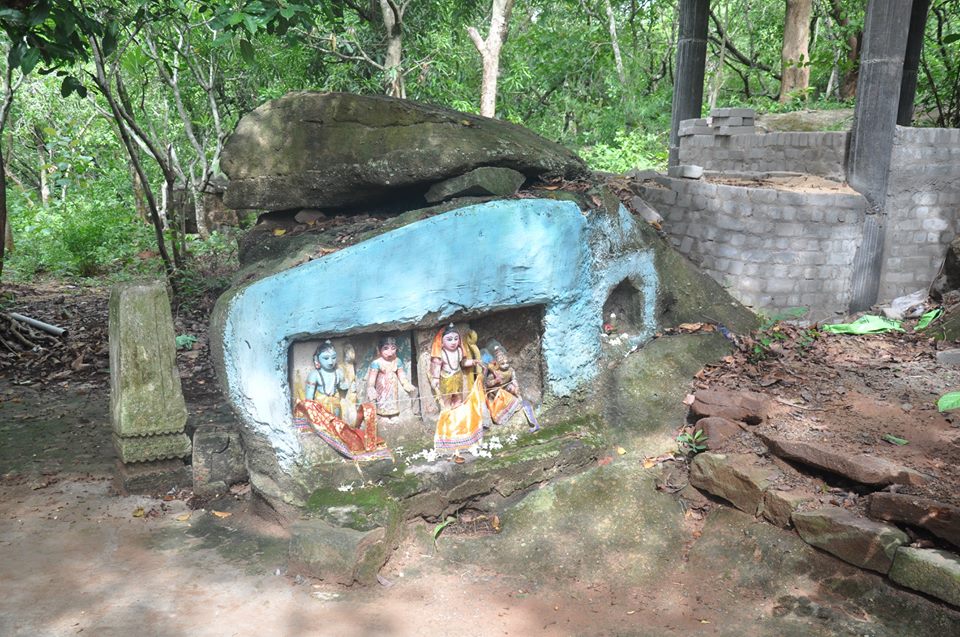 Sourav Majhi, a resident of Khandagiri said, "The Mahima sadhus roam around in nearby villages to propagate their religion. They never spend more than one night at a place. They do not believe in the caste system and accept food from everyone. The sadhus get up early in the morning and worship the rising sun. They do not consume any food after sunset. They converse scarcely. However, they are very helpful".
One needs to have the permission of the sadhus to spend a night at the hill. According to localities, one can see herds of elephants making their way out of the Chandaka forest towards Malipada village to gorge in ripe paddy fields.
Monkeys, deer, peacocks, snakes, cashew and mango trees enrich the wildlife of the area. Sunima, a local tribal woman, forays into the small Jungle quite often to pick cashew nuts. He said, "One needs to be careful of the deer as they can administer lethal kicks when they feel threatened". The aforementioned spiritual and natural attractions of the location make it a perfect destination for weekends.
Suggest A Correction