Bhubaneswar: Chief Minister Naveen Patnaik extended his warm wishes and conveyed his greetings to the people of Odisha Sunday morning on the auspicious occasion of Nuakhai.
Nuakhai is an agrarian festival mainly observed by people of western Odisha. It is observed to celebrate the reaping of new crop.
Also read: Nuakhai to be a subdued affair in Odisha this year
According to the calendar, Nuakhai is celebrated on Panchami Tithi (the fifth day) of the lunar fortnight of the month of Bhadrapada or Bhadraba falling August 23 this year, the day after Ganesh Chaturthi festival.  New rice is offered to presiding deities on this day.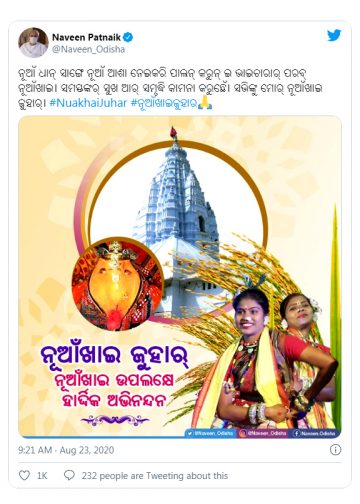 To mark the occasion, youngsters pay respect (Pranam) and seek blessings of elders in the family and locality as well, after eating Nuakhai prasad together with other family members.
PNN
Suggest A Correction