Bhawanipatna/Baliguda:Communication in several parts of the state was snapped Tuesday after many bridges were washed away due to the prevailing torrential rain triggered due to low pressure.
The worst sufferers were the residents of Kalahandi and Kandhamal as the rainfall continued to batter the two districts.
Vehicular movements came to a standstill after an approach road at Kanteshira was washed away following heavy and incessant rain in Kalahandi district since Monday night. Hundreds of vehicles between Balangir and Bhawanipatna were stranded on both sides of the NH-26.
A truck got stuck in the collapsed bridge Monday night after the driver lost balance on the wheels and fell into the ditch unaware of the road condition. A crane was engaged to pull the truck out of the dilapidated road.
People of many panchayats have been marooned as the region has been cut off from the rest of the world. Similar was the condition in many other parts with many bridges submerged under five to six feet rainwater.
On the other hand, a portion of temporary bridge was washed away at Sitapadi near Baliguda in Kandhamal district due to heavy rain, paralysing movement of vehicles.
Vehicles were left stranded for more than 10 hours due to the sudden collapse of the temporary bridge on NH-59 connecting Raipur to Gopalpur. Hundreds of passengers on their way to Muniguda, Rayagada, Bhawanipatna, Koraput, Raipur, Baliguda, Berhampur, Bhubaneswar and Cuttack had to go through unwanted problems due to the collapse of the half-constructed bridge.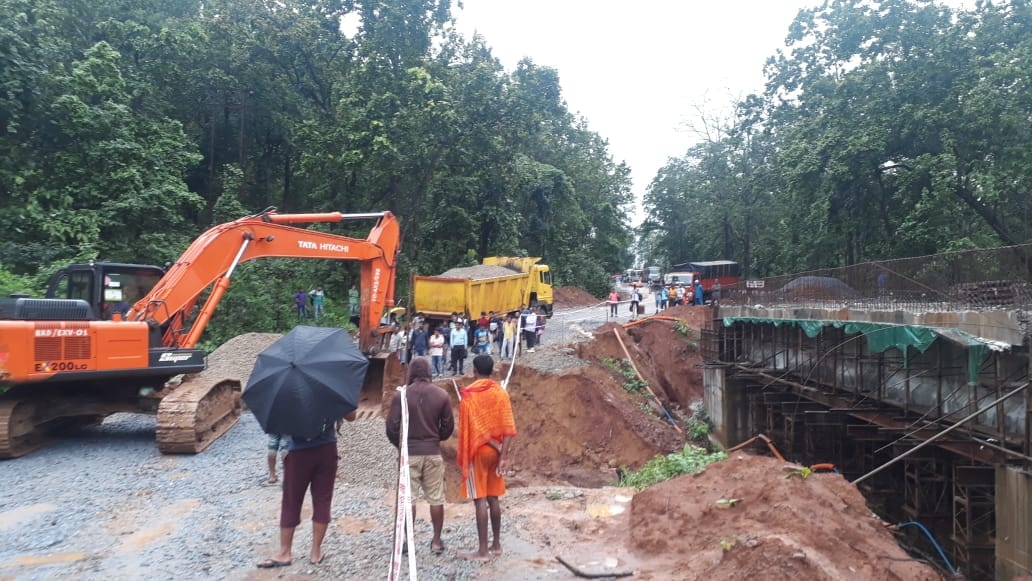 Locals blamed the contractor of the bridge responsible for collapse. The region remained cut-off and the vehicles were stranded while the filing of this report. Passengers had to take alternatives to reach their destinations.
While the MeT predicted of more rain till August 16, residents feared the situation would worsen if coming two days.
PNN