Cuttack: Professor Pada in the city has become synonymous with Munna Panda alias Kalia Bhai's mutton chops for the past fifty years. The shop, famously known as Kalia Mutton Chop, serves a wide variety of mutton and chicken dishes including prawn chops and mutton liver masala.
Munna, a Brahmin, never allowed himself to be bogged down by religious baggage that is attached to his surname.
Orissa POST interacted with the rebellious Brahmin who has broken all conventions to strike gold with his delectable mutton chops.
"Since childhood I have never been interested in studies, so I used to help my father in his business," Munna said.
It may be mentioned here that it was Munna's late father Bhaskar Panda who had started the shop. Munna whose brother is an engineer and is settled in Qatar lamented that he could not do justice to his academic career but was resolute in providing the best education to his son. "I don't want my son to sell mutton chops like me, I would never approve of that," he said.
Munna's shop has the USP that though it is budget-friendly but still it is squeaky clean and smells fresh always.
He is quite determined to keep the adjacent areas clean too so that the garbage from there do not get spilled over to his shop.
Munna's cramped-up joint has several shelves installed in it and benches to cater to the customers. On these shelves rested an array of sauces, condiments, spices, and trays full of uncooked chops.
The hour-long preparation starts from 6AM itself with cleaning ,cutting, washing, rinsing and soaking the mutton in water for at least 20 minutes to remove the excess blood to prevent meaty smell. In the process, Munna is assisted by his wife and three other apprentices.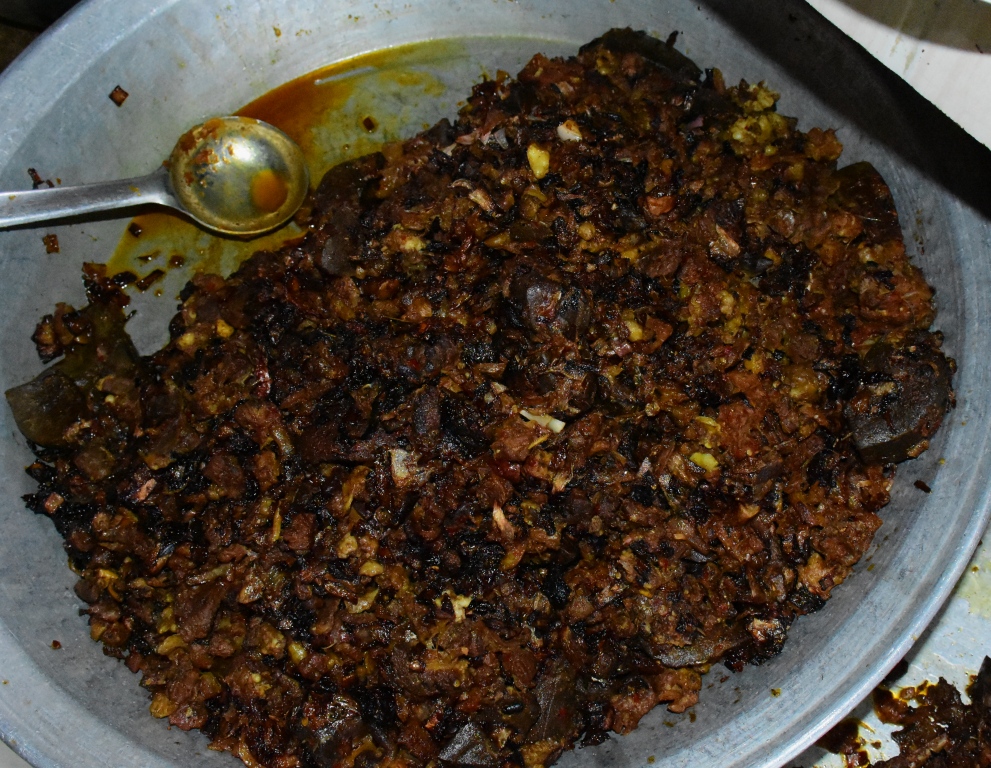 Right from using the finest of oils for frying to having filtered water, Munna makes sure that his shop never dishes out any substandard food or unfiltered water to the customers.
It may be noted here that Munna claimed to have not used any packaged spices and shared the "secret recipe" with anyone else. "It's me and a handful of others who share the knowledge of the recipe," he pointed out. However, Munna was lenient enough to give us a sneak peak of the recipe while still keeping it a secret.
Munna has kept two chullahs, one with coal and another with LPG, to serve to two categories of customer. "Anybody who is in a hurry can go for the mutton chops prepared on the LPG stove whereas if anybody wishes to relish his taste buds on some smoky mutton chops will have to wait for the coal chullah-prepared chops," he said.
Customers holding leaf bowls in their hands making serpentine queues outside Munna's shop is a regular sight outside his joint. Deep fried chops served hot with chat masala, various sauces and some salad is a must for anyone passing through the lane. From 4 PM to 10PM Munna's shop is crowded like ants swarming around a sugar jar.
The craze of Munna's mutton chops is testified by the fact that the famous foodie duo Rocky and Mayur did a feature on it for NDTV's Highway on my Plate Programme. With more than six lakh views on YouTube, the NDTV's Highway on my Plate episode catapulted Munna's recipe to fame, following which his gastronomic mutton chops got featured in Food Findo, a food blogging website, garnering rave reviews.
With a strict no-alcohol-policy, Munna's shop attracts families and, friends alike and even caters to marriage orders. "Usually I get consignment of worth Rs 30,000-40,000 per function," a gleeful Munna said.
Keeping up with the technological advancement, Munna has tied up with www.foodoku.in for home delivery service. What really attracts the customers to Munna's joint is the hassle free visit where rarely any customer has to remember what dishes he was served as Munna keeps a tab on each of them.
For Aslam Khan, Munna's mutton chops are "ambrosia". He said, "Even my wife's cooking can't match Munna's. It is simply delicious." Khan who has been a regular to Munna's joint for the last five years added, "During my Eid celebration, Munna's mutton chops always find a place in my menu."
Most of the foodies opined that Munna's mutton chops are the best in the city as he serves the freshest meat and is a stickler for hygiene.
Nilakantha Bhoi, a resident of Professor Pada, said whenever he feels like not having meals, he rushes to Munna's joint. "In the evening, my children eagerly wait for me to arrive from work, not because it's me returning home but because they expect me to bring Munna's mutton chops," he added.
MUTTON CHOP RECIPE: The mutton pieces are washed thoroughly before being boiled. A tablespoon of salt should do. The pieces are taken out after twenty minutes and mixed with garlic-ginger-spice paste and red chillies. The pieces are then fried in a wok or Kadhai along with masala for ten minutes.
A dough, made from boiled potatoes is mixed with salt and red-chilli powder and kept for 30 minutes, which later on is made into ball shape.
The potato balls are then stuffed with the mutton pieces and dipped in a thick besan batter and, biscuit crumbs and fried till the chops turn golden yellow.
The deep fried chops are now ready to be served with various chutneys like mint, tomato and coriander.
Chaitali Shome, OP