Palaces, with their grandeur and historical significance, have long been the focal points of tourist attractions around the world. While they serve as reminders of a bygone era, they also hold the potential to be catalysts for sustainable development, particularly in the realms of community crafts and local food production.
Ahead of World Tourism Day, members of a few royal families shared with Sunday POST how the heritage buildings play a significant role in the promotion of tourism as well as giving a boost to local crafts and food that lead to sustainable growth.
KALAHANDI PALACE
HH Maharaja Anant Pratap Deo of Kalahandi Palace in Bhawanipatna said, "Since the decision to open our homes, which we consider our palaces, to guests, we have embraced the opportunity to not only provide them with a luxurious experience but also to showcase the unique aspects of our region. Our palaces, first and foremost, embody self-sufficiency and sustainability, reflecting our commitment to these values. Moreover, it has always been our heartfelt mission to preserve and celebrate our heritage in every conceivable manner."
Food is an important aspect of the hospitality sector that gets the utmost attention at the palace.
"In the realm of gastronomy, our journey towards authenticity begins in our kitchens. Here, we adhere to a strict policy of using only the freshest, locally sourced fruits, vegetables, and grains. Regularly, trusted vendors deliver the bounty of our region to ensure that our guests enjoy the pinnacle of culinary excellence. Our chefs, who have been an integral part of our family for generations, are the custodians of our most cherished and delectable secret recipes, passed down through the ages. Their culinary expertise is the embodiment of our cultural legacy," added Deo. Narrating the aesthetic part, he mentioned, "When we embarked on the interior design of our palace, we invited local artists to adorn our walls with traditional motifs. These artists, hailing from our Kalahandi region, brought to life the rich tapestry of our cultural heritage, adding an extra layer of authenticity to our palace's ambiance."
The Maharaja further quipped, "Kalahandi is renowned for its Chichiguda sarees, a unique and precious creation of this region. To introduce our guests to the artistry of these weavers, we take them to the heart of the handloom village. This not only exposes the weavers' craftsmanship to a wider audience but also enables our guests to engage in enlightening conversations about the distinctive features of the local products. It is a journey into the soul of our region's artistic expression." Not just in food and fabrics, the royals also promote other forms of local crafts in their business.
"In our dedication to local traditions, we have fostered partnerships with local potters. The earthen pots they craft are the vessels of choice for almost all our culinary endeavours, whether it is in our Maa Manikeshwari temple or within the palace itself. This commitment to using traditional cookware not only preserves age-old practices but also adds a unique flavour to our dishes," Deo says.
The Deos have also taken a few measures to popularise the art and culture of the region.
"One of our proudest cultural assets is the Ghumra dance, a traditional art form that holds a special place in the hearts of culture lovers. Our guests eagerly anticipate the cultural evenings where they can witness this mesmerising performance. Guiding our guests through the vibrant tapestry of our heritage fills us with immense pride, and we recognise that such an endeavour would be impossible without the unwavering support and cooperation of our community. Together, we celebrate and share the essence of our region, ensuring that our guests leave with cherished memories of an authentic and enriching experience," concludes the Maharaja.
Also read: World Tourism Day: Three must-visit tourism sites in Odisha
BELGADIA PALACE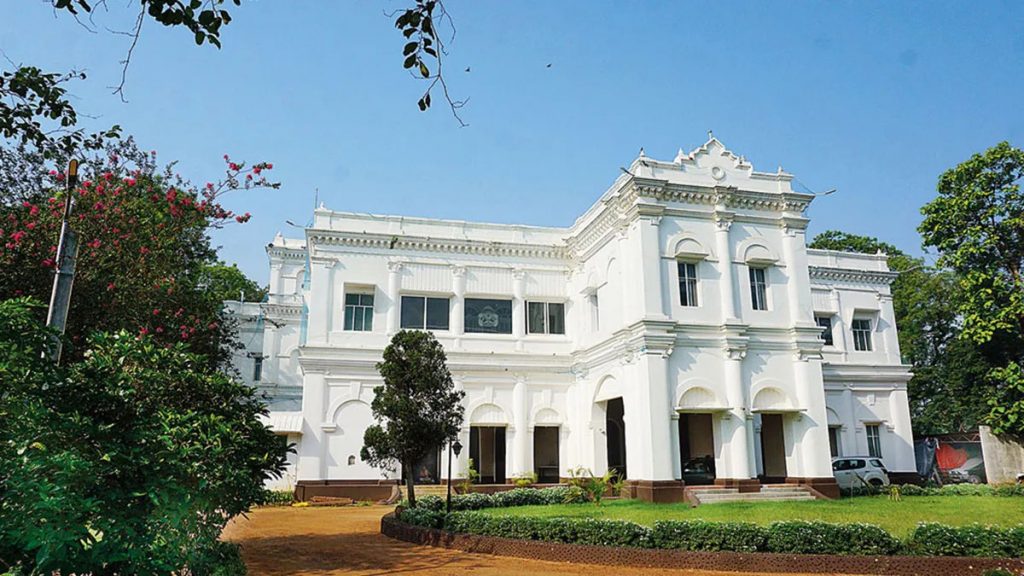 Princesses Mrinalika and Akshita BhanjDeo, the directors of the Belgadia Palace at Baripada in Mayurbhanj district, sharing their views on how local food and crafts are nurtured for sustainable tourism, said, "Preservation and raising awareness about the native plant life, along with the practice of edible landscaping, are central to our mission. We are dedicated to restoring and nurturing indigenous and select exotic plant species while eliminating invasive species that pose a threat to century-old plants. Our property boasts an array of botanical treasures, including the Golden Asafoetida, Clove Plants, a century-old bamboo plantation, as well as a diverse collection of mangoes, such as the Alphonso variety, along with other fruit-bearing trees like Sitaphal, Ramphal, Lychee, Papayas, and Bananas."
Akshita carried on: "In our commitment to environmental sustainability, we prioritise waste segregation and composting, utilise Energy Star appliances for heating and cooling, and operate a towel/linen reuse programme that significantly reduces water consumption by over 40%. Furthermore, our property is illuminated with energy-efficient LED lighting, equipped with low-flush toilets, and follows green laundry practices, promoting sustainable sanitation and water management. We also employ sustainable building materials, recycling waste materials like tree and foliage debris from Cyclone Fani into compost and repurposing fallen branches to craft tables, chairs, and boundary walls, minimising waste generation." Listing a few more measures, she said, "Within our guest rooms, we provide refillable haircare and skincare dispensers, exclusively use glass bottles, ceramic mugs, and refillable refreshment containers throughout the palace grounds, and have banned single-use plastic items."
The BhanjaDeos have also embraced nutrition farming and implemented integrated pest and nutrition management techniques through organic practices, including Amrut Jal and other ZBNF farming methods.
"We operate three composting sites and employ sustainable waste management practices. Our commitment to eco-friendliness extends to the use of sabai grass and environmentally friendly materials in the house, serving as dustbins, bags, and even doormats," claim the royals.
This encompasses supporting sustainable crafts such as dokra and black stone carving and promoting folk arts like Pattachitra in decorative elements around the palace. "We prioritise recycled and upcycled furniture and interiors, and we actively engage and train local youth to ensure that the economic benefits of tourism benefit the local community directly," says Mrinalika.
"We employ natural cleaners, disinfectants, and insect repellent sprays to maintain a clean and healthy environment. At our core, we collaborate with local communities, including Project Chhauni, Sabai Grass Communities (SHG), the Leper Colony, and Dokra Handicraft Villages, to promote business opportunities and provide alternative livelihoods through eco-tourism. By facilitating direct market access for these communities without intermediaries, we ensure that 100% of the profits return to them, contributing to their sustainable development," they conclude.
JHARGRAM PALACE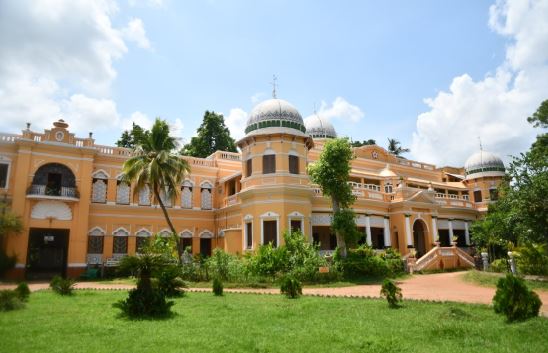 Jhargram Palace, still inhabited by West Bengal's Malla Deb royal family, stands as an architectural fusion of European and Islamic styles. The descendants of the Rajput clan from Rajasthan, who are credited with blending heritage with hospitality, have governed Jhargram since the 15th century. The palace's ground floor has been transformed into a heritage accommodation recognised by the Ministry of Tourism, Government of India.
Sharing the objective Vikramaditya Malla Deb, the prince of the Jhargram Raj Palace, says, "Our vision revolves around revitalising our architectural heritage and connecting it with sustainable tourism. It entails the restoration and reimagining of palaces and bungalows, promoting a travel experience independent of star-rated accommodations. Our primary goal is to create employment opportunities for Jhargram's skilled craftsmen and artisans within the tourism sector. We collaborate with various artisans and performers, including folk dancers who specialise in Raibeshe, Jhumur, Tusu, Ranpa, Dangery, and Bhuang dancers, singers skilled in Vaishnav kirtan and Jhumur songs, and artisans proficient in crafting Sal leaf plates, Sabai rope products, bamboo baskets, stonecraft, and pottery."
The promoters have also partnered with traditional black stone craftsmen and local village women skilled in crafting sal and sabai products.
"We assist them in selling their creations to our guests through our on-site sales point in the palace, and we provide them with a platform to exhibit their items during the winter tourist carnivals held in December. Our culinary approach prioritises locallysourced, farm-to-table offerings, aligning with the locavore concept," shares Malla Deb.
He claims that they have collaborations with organic vegetable growers, poultry raisers, black Bengal goat breeders, fisheries, and licensed poppy seed farmers, as our menu celebrates the native flavours of the Jungle Mahals region.
"We rolled out services which are curated experience-oriented local tours around art, architecture, culture, local life, food, and nature. Advocating local social responsibility for restoration of historic sites, as well as organic farming and local tree planting," he further says.
The Yuvraaj ends with a message on sustainable tourism by adding, "As we celebrate World Tourism Day, we focus on borrowing from the 'Gandhian idea' of sourcing locally. As people these days are in search of the authentic rural experience we ensure that farm to table and locally sourced products are sold and served at every dining occasion."
By Madhusmita Sahu, OP
Suggest A Correction