Bhubaneswar: In a dramatic nail-biting moment in Odisha's biggest quiz extravaganza – Mettle Meet – the Indira Gandhi Institute of Technology (IGIT), Sarang, Sunday bagged the award for 2019 edition in the senior's category. The defending champion of 2018 Mother's Public School continued its winning streak this year.
IGIT, which was trailing in the last part of second round with the NIT-Rourkela and AIIMS-Bhubaneswar bagging more points, ultimately bagged the award by pressing the buzzer and answering questions put to rival teams by quiz master Ajay Poonia correctly.
Mother's Public School, on the other hand, emerged champion in the junior category defeating its closest rival DAV-Unit 8 by a good margin.
Compared to Day 1, the finale saw intense battle among the 16 finalists, eight each from the junior and senior groups. Altogether 88 teams from schools and colleges across the state participated in the two-day quiz competition.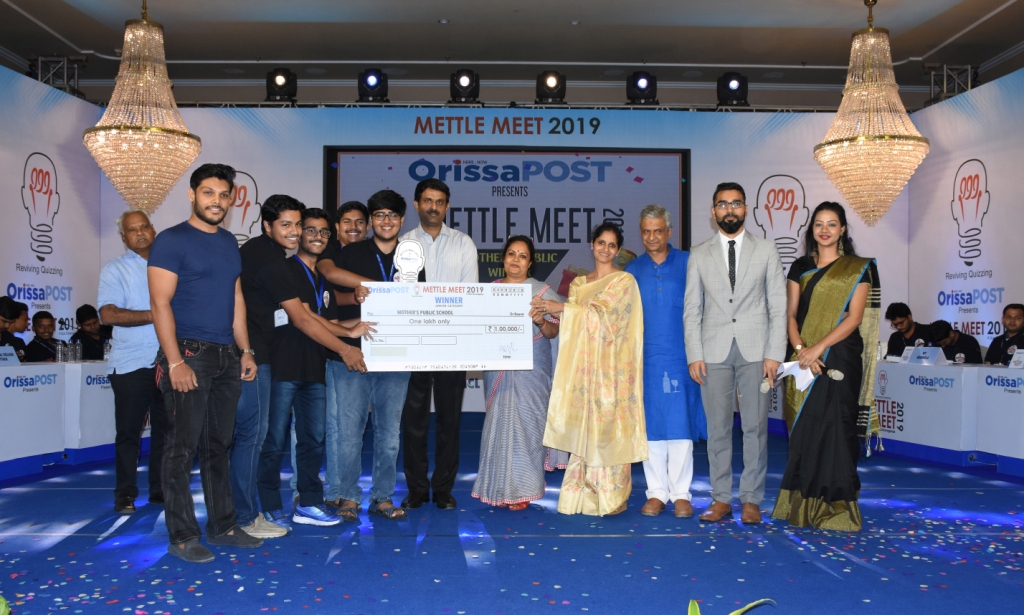 In the junior category, participants of Mother's Public School, Bhubaneswar, secured the highest points on Day 1 and evinced high levels of preparedness and presence of mind even on the concluding day. They out-performed all the other school teams in the contest.
In the senior category, the All India Institute of Medical Science (AIIMS) maintained its lead on Day-1. However, it was stalled by IGIT-Sarang and NIT-Rourkela, who succeeded in bagging the top two awards of Mettle Meet 2019 in the senior section. Unlike the written round in the prelims on Day 1, the concluding day witnessed a battle of the best brains on stage with all the finalists locking horns with each other.
Odisha Mining Corporation (OMC) Managing Director Vineel Krishna, Orissa POST Editor Tathagata Satpathy, Orissa POST CEO Adyasha Satpathy and Nishikant Mishra, chairman of TEAM Entertainment and Media, the digital partner of the event, gave away the awards.
"This was the fourth edition of the Mettle Meet, organised by Orissa POST. We have seen an overwhelming number of participants from schools and colleges across the state. Quizzes of this kind help raise the ability of the participants to think and grow, besides helping them in their academics," said Tathagata Satpathy.
Mishra said the surge in the number of participating teams point to the popularity of the show.
The mega event was witness to a crowd of dignitaries from different walks of life – bureaucrats, to police officials, business honchos and academicians. The much anticipated event was also watched live by many on social media platforms of the newspaper's digital ventures.
Suggest A Correction